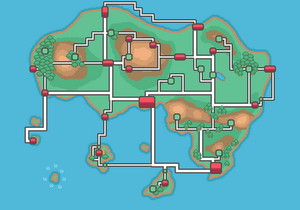 The Evera region is a lush land with an equally lush history. Roughly at its middle is the great volcano, Mount Evera.
Its technology is advanced and it is enthralled by the magic of pokémon battling, but despite its civilisation, Evera is still a land conquered by pokémon.
It is well known that trade from the northern regions of Kanto and Johto, among others, trade with those in Evera with trade ships arriving at Port Freightwaters on the northern shore.
The sparkling hub of pokémon battling, the epic centre for commerce, and the place where highways meet; Blazeline City is the annual host of the Pokémon League as well as other minor competitions.
Known as "the western point of civilisation" by Everans anywhere, Horn City is famed for its Seawhalon sightings on the horizon and during thunder storms. It is, in fact, named for the view from the beach when Seawhalon and Sealoceros leap from the water to catch lightning on their long horns.
Redsong City is the centre for furthered education in Evera. It is home to the Redsong University, and its place on Redsong Peninsula allows it to be nearly surrounded by the wildlands.
Towns and Villages
Edit
Natural Formations and Locations
Edit